Mountain Holomontas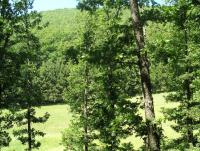 At the center of Prefecture of Chalkidiki, covering an area starting from mountain Chortiatis, near to Thessaloniki, to Strymonikos Gulf, the mountain Holomontas dominates the width area (highest top on 1165m). The area is wooded and characterized by incredible beauty and great view to each direction. Known from ancient times for its timber, which was coveted by shipbuilders, and for its mines, Holomontas is called "ipsizonos", which means "high vegetation" cause of its impressive vegetation.
Rough valleys and rocky canyons characterize the site of mountain Holomontas. The verdant forest of Holomontas, usually covered by snow during the winter, offers incredible chances for sightseeing. Pine, fir and oak trees are alternating with chestnut and oak trees while there are plentiful brooks and springs. The air is so clean that takes the breath away.
The diversity of forms of mountain's forest is partial to a large number of preys, wild animals and birds. The ecological system of Holomontas is characterized as an important area for reproduction of predatory birds, such as: Sfikiaris (Pernis apivorus), Ornio (Gyps fulvus), Fidaetos (Circaetus gallicus), Chrysaetos (Aquila chrysaetos), Petritis (Falco peregrinus) and Boufos (Bubo bubo). It is also possible to reproduce in the area the bird called Mavropelargos (iconia nigra).
Nature's adorers and walking tourist fans, which want to meet mountain Holomontas, can follow one of the total of ten trails of the area:
Ride no. 16: The ride starts from the city of Poligiros and continuous on the hills around of the mountain in a lovely site with outstanding view. (2,2 hours, highest point on 942m).
Ride no. 17: Starting from the mountain village of Taxiarhis and going through fir, chestnut and beech trees we are going to the village of Vrastama. The ride is fantastic during all seasons (highest point on 600m).
Ride no. 18: It's one of the hardest rides. Starting from Vrastama and passing through the cave of Saint Efthimios, which used to be an isolation place for monks, the ride ends again in the village Vrastama. (Highest top on 540m).
Ride no. 19: Starting from the village of Palaioxora this 4klms ride ends in the village of Taxiarhis. (Highest point on 960m).
Ride no. 20: The last ride starts from the village of Olimpiada and leads us through ancient Stagira, Aristotle's birthplace. The site is magnificent as it goes through wooded paths.
Mountain Cholomontas offers each time of the year a chance for alternative forms of tourism but also a chance for environmental and ecological education. Stamped old paths, mapping of new walking horse-riding paths, mountain bike paths, areas of controlled hunting, and climbing are few of the reasons why each year more and more visitors are attracted from Cholomontas.