Graphical Creeks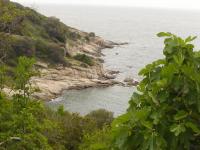 The outstanding, natural manufacture of Strymonikos gulf, as it's resting at the outcomes of the mountains of the area, offers a unique chance to visitors. On the way from Stavros to Olympiada, in a path full of curves, and on the way from Olympiada to Ierissos, numberless small and graphical creeks are hidden. They stand there, as lost and forgotten "heavens on earth", offering the "dessert" of gulf's enchantment.
The beauty of the site will fascinate the most demanding visitor. Abrupt bright green hillsides and ideal small and huge rocks compose conjectural the incredible beauty of the site.
And about the view? The infinite blue of the sea you'll stare during your staying at one of those natural hugs will interrupt only from sailing fishing boats.
If you are an adorer and collector of natural objects, the graphical creeks are the place you must visit during your staying in one of the villages of Strymonikos gulf. Multi-colored seashells and stones divinely made, tree branches baked on sea's saltiness will gain your attention to become a part of your collection.
At one time inaccessible, at the other approachable, graphical creeks are offering a chance for isolation being cut completely from the villages of the gulf and any kind of communication with civilization. It's demanding thought, from the visitor to behave with the necessary respect to this natural wonder.
That's why you have to make sure that no marks of the "modern civilization" will stay behind. Let's protect nature's treasures.