Mountain Kerdyllia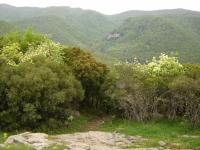 At the center of Serres Prefecture and to the south, is located the massif of Kerdyllia mountain (highest top at 1092m) a wooded area with incredible beauty and outstanding view to the Strymonikos gulf.
At the borders of the mountain was found in ancient times the important city of Amfipoli, known for its wood and mineral trade provided by the mountain.
The bright green site of Kerdyllia mountain, full of pine, fir and beech trees, springs and brooks, the view to the gulf composes characteristics that are justifying visitor's presence in the area. At the center of Strymonikos gulf and over the village of Asprovalta, behind a rock stands, protected by a natural hug, the monastery of Saint Georgios which once belong to a monastery of mountain Athos.
At that rock is intended to sculpture the bust of Alexander the Great. This idea was born several years ago from sculptor Tasos Papadopoulos, motivated by Alexander desire, he quest it from the ancient sculptor Dinokratis, to sculpture his bust on mountain Athos.
The bust will have 80 m height and 57 m width. The construction of Alexander's bust will be the biggest artistic attempt of this kind (mountain carving) in Europe.