Olympiada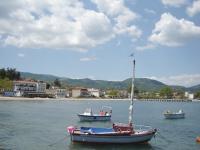 Lengthways of this beautiful beach, that spreads into a natural harbor and is surrounded from bright green mountains and charmed beaches, lays the village of Olympiada. It's the third village of the area with refugees, beside Asprovalta and Stavros. Here settled 50 refugee families from Saint Kiriaki of Vithinia, after the persecution of Greeks, in 1922, from Asia Minor.
When the refugees came to this area, found a small village of about 10 families. The land was nothing but a swamp and people were infected by malaria. That was the reason why 1/3 of the first village population died in a few months, while many others spread out in other areas of Macedonia and Thrace.

The village lies in the shadow of the ancient village of Stagira, the birthplace of the greatest philosopher of ancient times, Aristotle. According to a local tradition, the name of the village comes from Olympiada, the mother of Alexander the Great. Tradition says that she spent some years in exile in ancient Stagira, or in the small island of Kapros near the village. Although this information is unverified, it may bury some truth.
Today, Olympiada is a Municipal District of the municipality of Stagiron – Akanthou. The simplicity of the village, the crystal-clear sea and the perfect combination of village atmosphere along with modern tourist substructure classify Olympiada as a favorite summer resort for many Greek and foreign visitors.
Olympiada's visitors have the chance to:
Be astonished by the charming view of the island of Kapros, right across the village.
Visit the church of Saint Kiriaki, and pay respect to the protector of the ancestor's village.
Visit the village of ancient Stagira, a place where, each summer, many musical and theatrical events occur.
Roam on the plane trees forest at the entrance of the village, lengthways of a torrent that flows its rainwater to the harbor of the village.
To swim with safety at Olympiada's harbor cause the sea is really flat, just 30-50cm in a distance of 50m from the coast.
Taste some amazing goodies served on the small graphical taverns located in the sidewalk just a few meters from the sea.
Participate in the feast of Saint Kiriaki that takes place each summer at the 7th of July, the famous mussel feast.
Ease his mind fishing on the old gangplank, in the middle of the harbor, enjoying the peaceful seascape.
Explore small creeks, faraway from the village and cut out form the surroundings.